Cone Crusher-hydraulic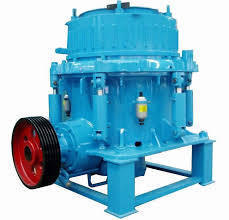 Cone Crusher-hydraulic
Product Description
Our company is supported by a team of highly motivated and skilled professionals since its inception.Bentex's Cone Crusher are based on layered crushing theory with overload hydraulic cavity cleaning system & centerlised lubrication system along with refrigerants entirely ensure the safety and stability during operation.
Hydraulic push cylinder and lock cylinder are capable to adjust the discharge opening width through a forced hydraulic system. The invention and adoption of the techniques of concave holder, concave, crushing cone body and mantle after machining process allows connection with cone surface in place of the ancient complicated techniques. Cone crusher is used to break numerous ores and rocks with medium or above hardness & widely utilized in Architectural, Metallurgical, Road and Railway, Building. Cone Crushers ideally used as Secondary Crushing Machine.

Features of Cone crusher:

Automation system.
Advanced hydraulic technologies.
Reliable hydraulic adjustment & security for protection
Ruggedization & easy maintenance
Adjustable stroke allows optimum crusher settings ensuring maximum yield of a required end product size
Centerlized oil lubrication system
Lower wear part consumption and operation cost
Uniform finished product shape
Simple operation
Available 50 to 300 Ton Per Hour Crushing Capacity.
MODEL
FEED OPENING
Close
Setting
Crushing
Capacity*
Recommended
POWER
Weight
Approx


(in MM)
(in MM)
(in T.P.H.)
(in H,P.)
(in Metric Tons)












BIPL 600
75 MM
3 16
8-65
60 HP
5.50 MT
BIPL 750
85 MM
3 18
12 85
75 HP
11.50 MT
BIPL 900
110 MM
3 20
24 - 125
125 HP
15.25 MT
BIPL 1200
150 MM
5 50
45 - 175
200 HP
24.50 MT
BIPL 1300
205 MM
8 65
100 - 300
250 HP
27.00 MT

Contact Us
C-55, Focal Point, Mandi Gobindgarh, Punjab, 147301, India
Phone :+918045478671